Image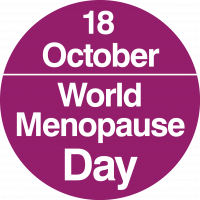 Tuesday 18th October is World Menopause Day
There are many areas of health that are important to consider when it comes to women's health and cardiomyopathy. One of these is living well during the menopause. The menopause can have symptoms which may be the same or very similar to symptoms experienced by women due to their cardiomyopathy. 
Eight menopause symptoms which are often described are:
Sleeping problems -due to night sweats

Hot flushes and night sweats- sudden feelings of hot or cold in your face, neck and chest which can make some people feel dizzy

Stress and anxiety- low mood, anxiety, mood swings and feelings of low self-esteem

Weight gain- increase in weight especially around the abdomen

Low energy levels-feeling lethargic, fatigued and drained

Brain fog and poor concentration-changes to memory and concentration levels

Skin changes- dry and itchy skin

Urinary changes- some people experience frequent urinary tract infections
Raising awareness of these is important in supporting women to understand the connection between their symptoms and hormone fluctuations so that they can discuss these symptoms with their GP or cardiologist and receive support and advice.
Cardiomyopathy UK Specialist Support Nurse Jayne says 'Many of the symptoms of menopause are very similar to symptoms experienced by women diagnosed with cardiomyopathy, therefore if you experience new symptoms and feel that your symptoms could be hormone-related, please speak to your GP about treatment options'
Further information about perimenopause and menopause can be found here Menopause - Symptoms - NHS (www.nhs.uk)
We're holding a session on 'Women's Health and Cardiomyopathy' at our national patient conference on Saturday 19 November. Tickets are available now.
Return to news