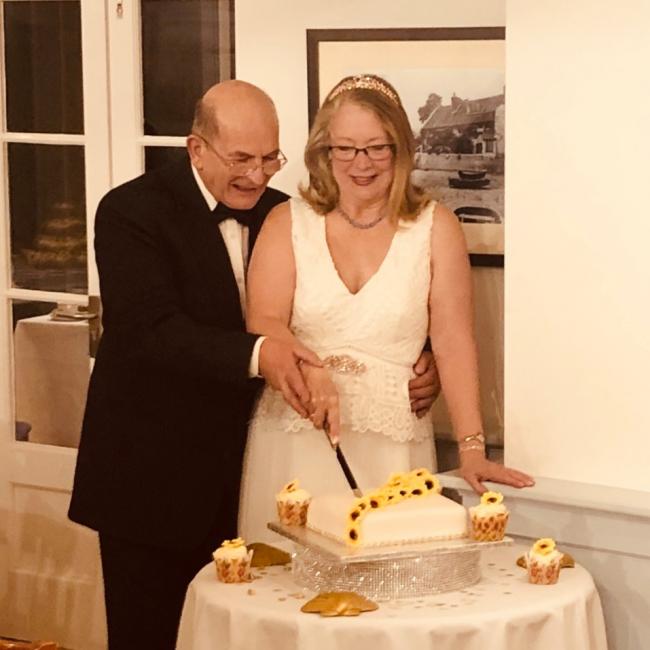 "We were married on 17 February at Itchenor Sailing Club, Chichester with around 50 guests attending and another 30 joining us for the evening celebration. My son 'gave me away' and his 3 children took part in the ceremony. The weather was not wonderful but the rain ceased at the appropriate moments and as we made our vows a rainbow arched right across outside the window! We felt Joanne was with us then. My son 'gave me away' and his 3 children took part in the ceremony.
Mike and I first met in 1963. His band used to play at a club I went to in London. We went out in a group for a couple of years and, in our late teens, everyone went their separate ways.
In 2007, 3 years after we lost our daughter Jo, my husband passed away. A couple of years later I received an email via a friendship group called 'Friends Reunited'. It said a Michael Pierce had emailed a request to contact me. I eventually replied (I was on holiday when it arrived) to say hello. We didn't live in close proximity like in our youth in London however we arranged to meet for lunch 'halfway' and did a few times. From then on it was occasional meetings and Mike would come and stay. Then when he retired we got together permanently and finally decided to marry. It took a while to get around to it though!
I and many of Jo's friends have raised funds since 2004 and I was told the total now stands at over £26,000. Mike and I decided that, at our age, we didn't need presents so asked for donations to CMA- now Cardiomyopathy UK- instead."