Written by Jaye Chassebi, Community Fundraiser. 
"When lock down started back in March, all our face-to-face community fundraising events for the spring and summer that we had planned were cancelled overnight. Knowing the knock-on effect that this would have on our income for the year, we quickly had to adapt and immerse ourselves into a brave new world of virtual fundraising. 
Image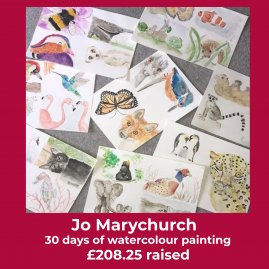 So far, this has included quizzes, music videos and picnics- to name but a few! However, one way that has really sparked imagination with our supporters is the 30 Day Home Challenge. The concept is simple; think of a challenge that you can do for 30 consecutive days and get your household, family and friends to sponsor you for a fixed amount each day, such as £5 or £10.
The past few months have seen our community fundraisers take on a variety of 30 day home challenges including: walking the distance from London to Paris, baking every day, watercolour painting, walking 3 miles a day for 30 days, cycling to the international space station and learning to play the guitar.
 
Image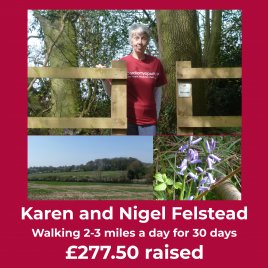 To date we have collectively raised an AMAZING £2165.75 by doing the 30 Day Home Challenge!"
So, are you ready for a challenge?
Our next fundraising goal for the 30 Day Home Challenge is £5000! Why not sign up today and help us reach this?
Here are a few ideas to get you started:
Learning – learn a language, read a book or do a puzzle every day for 30 days
Creative – draw, bake or write a short story every day for 30 days
Health and wellness – No caffeine or alcohol, eat healthy or do a daily walk, run or cycle every day for 30 days
If you have any questions, or have an idea that you want to discuss before committing to your challenge, then please do contact me on jaye.chassebi@cardiomyopathy.org or call the office on 01494 791224. 
Return to news