Fundraising stories
13 March 2023
Dougie and Pete sadly lost their wife and sister, Jane to cardiomyopathy unexpectedly 10 years ago. To mark the 10-year anniversary in 2022, Dougie and Pete took on one of the hardest challenges on the planet – the Marathon des Sables, raising over £26,000 for Cardiomyopathy UK.
1. You ran in memory of your wife and sister, please could you tell us a little bit about Jane and your motivation for taking on the challenge. Tell us about your challenge and why did you choose that particular event? 
P: Jane was not only my sister but my twin. Jane and I had shared everything all our lives – from our mother's womb to birthdays and everything in between. Her unexpected passing  hit our family like a sledgehammer and still feels very raw today. Like all relationships, sibling relationships are also complicated and ours was no different. Moments of love and kindness but also major arguments, normally filled with some choice words and the occasional smashed tennis racquet!-I still have a disfigured one of hers that always makes me laugh, as I can remember so clearly the match and the tantrum that followed!. Jane was certainly one of a kind. Up for a laugh, she was extremely family oriented and in Doug, was very happily married. It is some comfort that whilst she had a short life, she was ultimately very happy.
Image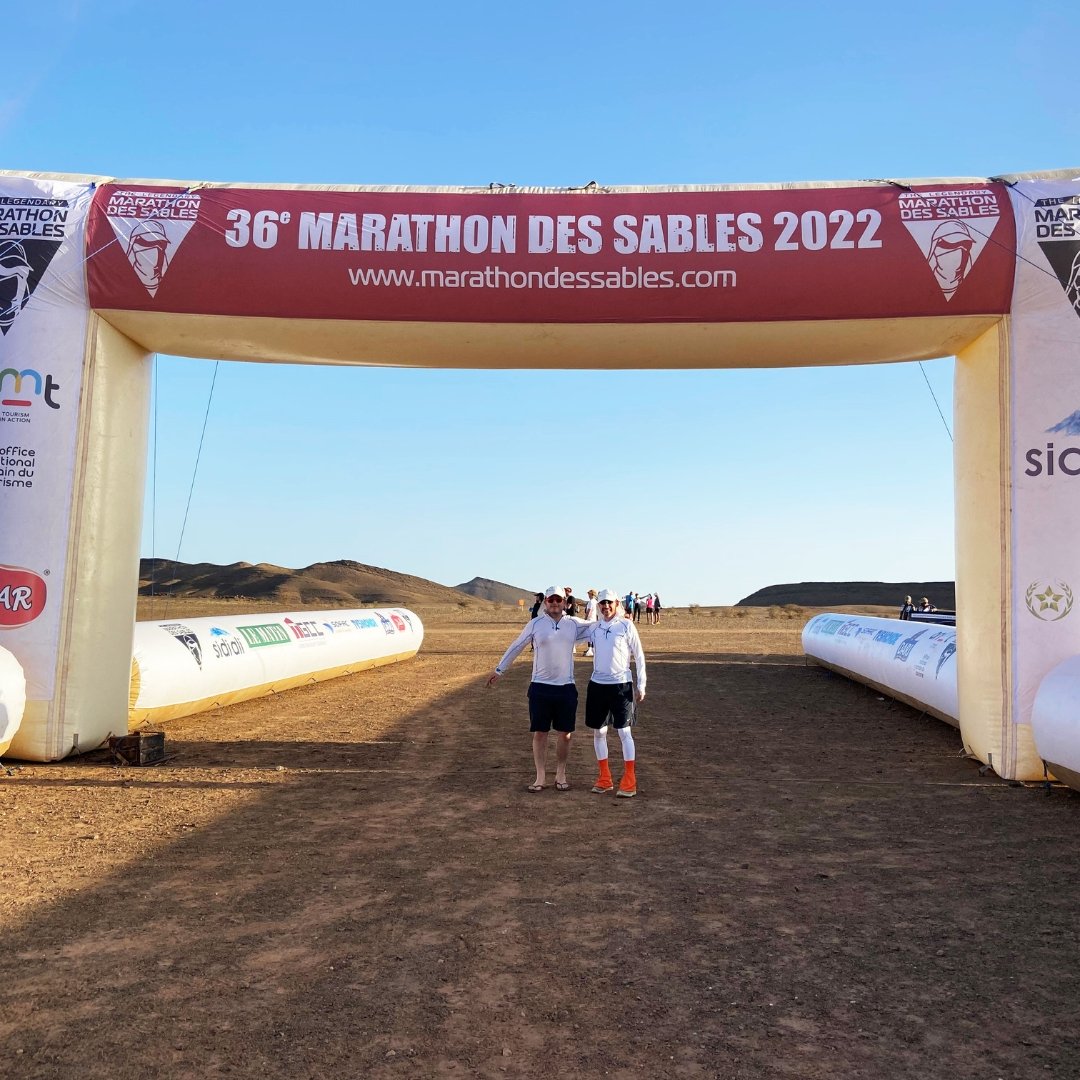 My mother found Jane's final address as Head Girl of her school. She quoted the American poet Emerson "what lies behind us, and what lies before us, are tiny matters compared to what lies within us". It seemed appropriate for Jane's 10-year anniversary to find a challenge to celebrate her life that would push us not only physically but mentally. The Marathon Des Sables sounded bonkers but the one to go for. I knew that very few people would agree to sign up, but had an inkling that Doug would be keen! Doug as expected jumped at the suggestion and the event did not disappoint. 
D: Jane was one of those rare people who brought light to the world. She had time for everyone, no matter who they might be, and she gave endlessly to others no matter what their need might be. Her sudden death at age 32 was devastating for all of us. Personally, I have no recollection at all of the next year of my life. I do however remember feeling very strongly that Jane would not want me throwing my life away and so I decided to channel as much of what I was feeling as I could into trying to help others not have to go through what we as a family had been through. It was actually Pete's idea to participate in the Marathon des Sables (MdS) in 2020, the 10th anniversary of Jane's death, as a way of raising some money for Cardiomyopathy UK. The MdS is a five-day race of 250km through the Sahara desert – effectively it's five marathons over five days – and it's often referred to as the toughest race on the planet. It's self-sufficient, meaning you carry all of your food and supplies needed to keep you alive with you as you race. The only thing you are given is water and a tent at the end of each day. The tent is shared with 7 other people. It's a significant challenge. 
2. How did you prepare for the event and how did you find the training process? 
P: I was fortunate enough to have enough friends and family who thought I was so physically unfit that they felt obliged to join many training sessions and help me get to the start line. The covid pandemic prolonged the training program. We had some great fun getting out and about and I look back on some of the training that took place pre-event and I have to say we had a great laugh. I have certainly caught the bug to do more of these, it great way to improve your mental and  physical health, catch up with old friends and indeed meet new friends. I would highly recommend looking at some of the events that are put on around the country.  
Image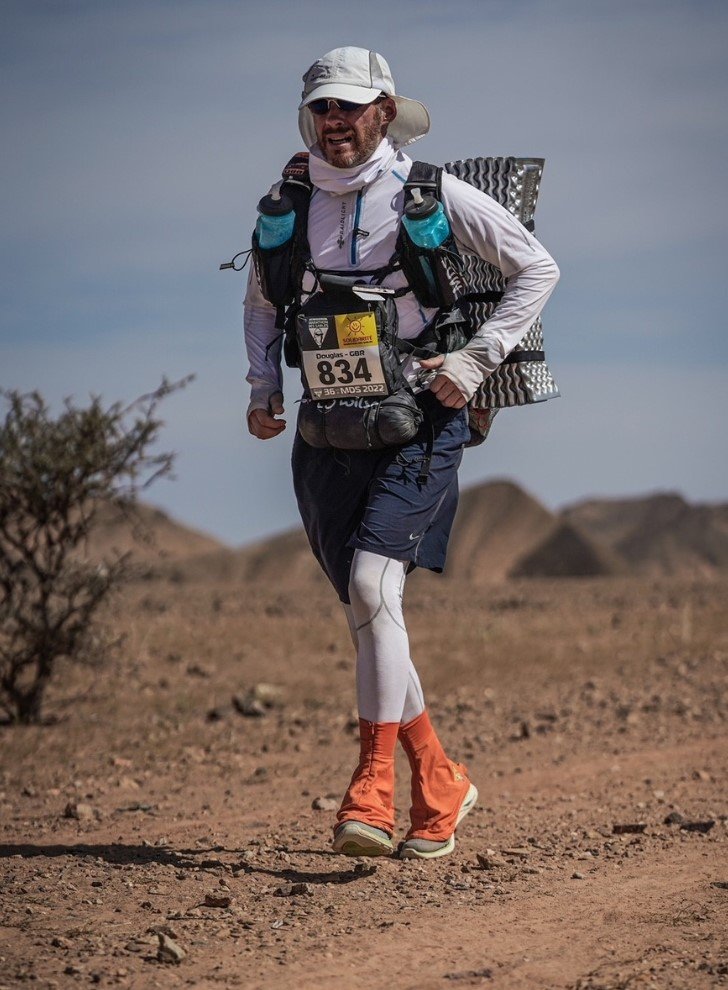 D: We originally signed up to participate in the April 2020 version of the MdS but COVID had other plans for us. The race wasn't actually cancelled until March 2020 so we were pretty close to go-time. I was halfway through a fundraising event at my local gym when I got the cancellation email. The organizers tried to run the race every six months thereafter and so our preparation was very stop-start until we finally got to the start line in April 2022. I basically combined a lot of miles each week running with a 20-lb weight vest with strength sessions at the gym. I do CrossFit about 3 times a week so I continued doing that and gradually built up my mileage each week in the early mornings before breakfast. Remote working definitely helped me as I was able to replace my morning commute with a training run!  Our gym also has an infrared sauna so I did a lot of sessions in there with the temperature up at about 120 degrees. That was actually pretty boring – sitting in a glass box in extreme temperatures isn't a great way to spend your evenings! 
3. The money you raise will provide support to people affected by Cardiomyopathy, raise awareness for the condition, help us campaign for better treatment and support research that will shape the future of cardiomyopathy. What is your hope for the future? 
P: Early screening and Identifying ways to effectively treat problems can extend a life and prevent a family heartache like ours. My hope, therefore, is for better wider screening and support for families who experience who are directly and indirectly impacted by cardiomyopathy.    
D: My hope for the future is that those with cardiomyopathy and their families become better informed about the condition and so are able to adapt their lives accordingly. When Jane was diagnosed there really wasn't much information and we didn't know the full extent of what she was facing. We managed and adapted as best we could and although it wouldn't have changed anything, I always wish we had had more information. If our fundraising helps others where we didn't have the same resources, that will be a fantastic outcome. Having someone at the end of a phone or responding to an email is really helpful and just knowing you have support when you need it is tremendously comforting. 
4. What was your favourite part of the event and what did you find the most challenging? 
P: We had a great tent and the fact that all seven of us got around was incredible. It is not only a physical challenge  but a mental one too. Each day you would get a few emails sent from friends and family who were tracking your progress. I can remember getting quite emotional reading each of them and also thinking about Jane. The challenge is so great but you have much time to reflect on the most important aspects of life-Family, Friends, Health and Love. The hardest part for me was managing my feet which deteriorated rapidly towards the end. My daily hike to the medical tenant to have an infected blister managed was far from pleasant-an injection threw my big toenail to suck up blister fluid on the final day along with injections in my thigh to reduce swelling being particularly horrid!  
D: For me, the most challenging part of the race was also my favourite. Day 4 was 'The Long Day', so called because it basically involves two marathons back to back. The exact route for the Marathon des Sables is never released until you actually get to the Sahara a couple of days before the start however Day 4 is always the most challenging – for us it was 85.8 km with a 34-hour time cap. You start running at 8am on Day 4 and you basically keep going until you finish at some point the next day. Some people keep going all day and all night, others stop for some rest part way through the night. My group kept going, so we ran through the night and finished at about 6am the next morning. At the end I don't think I've ever been as physically drained – running through the Sahara in total darkness is not something I'd like to repeat. It was the camaraderie and support of the group that got me through that without question, which is what made it my favourite part of the event. Additionally, we saw the sun rise over the desert from the top of a mountain ridge and that was pretty spectacular – definitely a Kodak moment, although unfortunately to save weight in my pack I didn't have a camera with me to record it! 
5. What advice would you give to somebody thinking of taking on a challenge for Cardiomyopathy UK? 
Image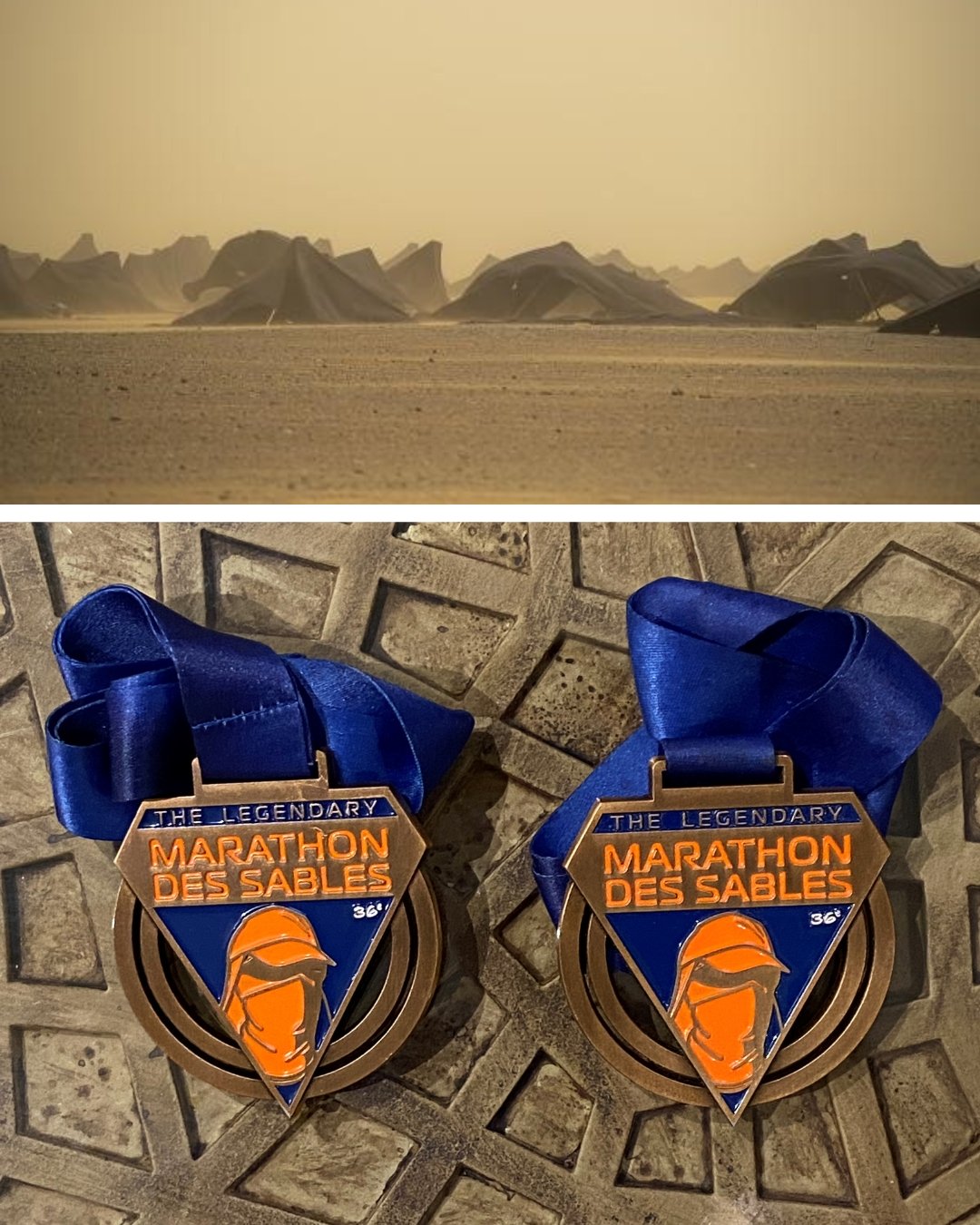 P: I would highly recommend it. 
You will be surprised how much enjoyment you get from physically and mentally challenging yourself, allowing you to spend time with old and meet new friends and connect with nature. The funds you raise will help others and that gesture however big or small is  a great feeling. Don't overthink the quantum of the challenge just find one that sounds great, and a few friends crazy enough to sign up and go out and enjoy it. 
D: Do it! Anyone can achieve anything just by putting their mind to it. Giving back is one of the greatest things that we can do. Setting yourself a challenge that you're not sure that you can manage, then smashing it and helping others while you're doing it is a fantastic way to give back to others. If just one person benefits from what you are doing, then it's worth it. And you'll probably want to do it again.
If you want to join #TeamCardio and take on your own challenge to help support those affected by cardiomyopathy, click the link below and find your challenge.
Return to news