Author, Tracy Patrick shares her journey with hypertrophic cardiomyopathy, how it has inspired her writing and how she manages her condition.
The Diagnosis

 
I was diagnosed with hypertrophic cardiomyopathy (HCM) in October 2014. I had suffered a sudden cardiac arrest while walking to my local Post Office and had to be resuscitated. It is thanks to the quick thinking of the people in my local area, one of whom was able to give me CPR, and the work of the paramedics in getting me to the hospital so quickly, that I am still here today. 
Before my cardiac arrest and diagnosis, I was experiencing a range of symptoms related to cardiomyopathy, although I wasn't aware of this at the time. This included breathlessness, chest pain, and dizziness, especially when being more active.
I was diagnosed immediately after the event, while I was in the hospital. When I woke up, I didn't have any recollection of the incident. I had some memory loss due to a lack of oxygen to the brain when my heart had stopped, but gradually I was able to understand where I was and that I'd had a cardiac arrest.  
The process was very confusing at first. Doctors and nurses spoke to me about what was going on, but I don't really remember what they said. I had been posting my entry to a poetry competition at the time, and all I was concerned about was my poem getting to the competition on time. When it was happening, I don't think I took it all in properly. I heard people telling me that I had a serious form of cardiomyopathy that could result in sudden death and that I would have to have a defibrillator fitted. The process of being transferred to the Golden Jubilee Hospital in Glasgow and having the procedure was very quick, but it's all a bit of a blur. Looking back, I think I was in shock but I didn't realise it at the time. 
After the procedure, I wanted to get back to normal as quickly as possible, but of course, everything had changed. Deep down, I was probably very scared. I discharged myself after the procedure, and I remember dragging my bag behind me down the hospital corridor and finding my way to the taxi rank. When I think about it today, it seems like I'm watching someone else. No doubt, I was pleased to see my cats and be back at home. I remember doing things like washing the windows, which I shouldn't really have been doing. After a couple of weeks, I had another cardiac arrest. This time my defibrillator delivered its life-saving shock.  
I had no idea what was happening. I was on a bus at the time, and I almost froze, afraid to move. I told the bus driver what had happened. He let me off at the Western Infirmary, I was taken from there to the Jubilee to be assessed for a heart transplant. I was absolutely terrified. In a short space of time, I'd gone from having the rest of my life to live, to almost dying at aged 42. Now my life could depend on the success of an organ transplant. 
I really admire the courage of people I've met who have been in that situation, and the phenomenal strength and resources they find within themselves to go through a transplant. I did not feel brave at all. I was incredibly anxious, I couldn't concentrate. Even saying the word, 'heart,' made me feel like I would have a panic attack. The care I got at the Jubilee was marvellous. The staff and doctors did everything they could to help me feel safe. In the end, they decided not to do the transplant at that time. However, I was still struggling psychologically. I was afraid to move too quickly in case I went into cardiac arrest and just leaving the safety of the hospital was a big deal for me. This time, when I got home, I rested in bed. It took me a long time to gain my confidence and to feel I could move around safely without my defibrillator delivering a shock again.   
My Family History

 
I wasn't aware of any family history of cardiomyopathy at the time of my diagnosis. My father died when I was just eight, and he was thirty-five. Families deal with bereavement in different ways, and no one really went into detail about how he died. I was told it was his heart, and that was it. When my cardiomyopathy was discovered, I was tested and found to have a genetic condition, inherited from my father. I had never seen his death certificate until recently, but it says he died from cardiomyopathy. His brother also had HCM and died from the condition. My grandmother on my father's side died when she was forty-two, and her father died from sudden death, too. My sister has been tested and, luckily, does not have the gene. 
I think everyone who has a history in their family of sudden death due to cardiomyopathy should seek to get tested. It may seem scary at the time, especially if there doesn't seem to be any outward signs of illness, but it could literally be the difference between life and death. Having cardiomyopathy has made me think about my father a lot more. If the same treatment had been available to him, he could have been here today.  
Finding support

 
The resources provided by Cardiomyopathy UK are invaluable. One of the most difficult things about being diagnosed is processing all the new information. I know I didn't take it in the first time around. Some of it I still haven't taken in. I really like that there's a nurse available a phone call away, and I love the Facebook page. What I like most is that you hear other people's stories through their posts, and you can ask questions about lots of things, symptoms, medical questions, and support experiences, and receive a broad range of answers, as well as empathy and understanding. I don't know what I'd do without it. I've learned more about my condition using the Facebook page than I have from consultants, partly because you don't get much time with a consultant, and because it was all so new, it's taken me this long to discover what questions I want to ask. It really is an ongoing process. 
Living With Cardiomyopathy

 
Before I was diagnosed, I had never heard of cardiomyopathy. I thought that a healthy lifestyle was all it took to prevent a heart condition. But that's not true, not that a healthy lifestyle doesn't help. However, I have learnt that it's possible to eat well, exercise, and still have cardiomyopathy, especially if it's genetic.  
It has had a huge effect on my emotional wellbeing. I've had a couple more cardiac arrests since I was assessed for a heart transplant, and my defibrillator has done its job. I think each time it happens, I get a bit more confident that I will be okay, but it's been quite a long road. I think being relatively young when I was diagnosed was a big shock. I felt as if my life was over, and that I hadn't had a chance to do what I hoped to do, like publishing my novel and poetry collection. I still have fears about the future, I don't like the idea of catching other illnesses and infections, so I was very insecure during Covid. I didn't want to end up in the hospital and I'm still struggling with that. 
Image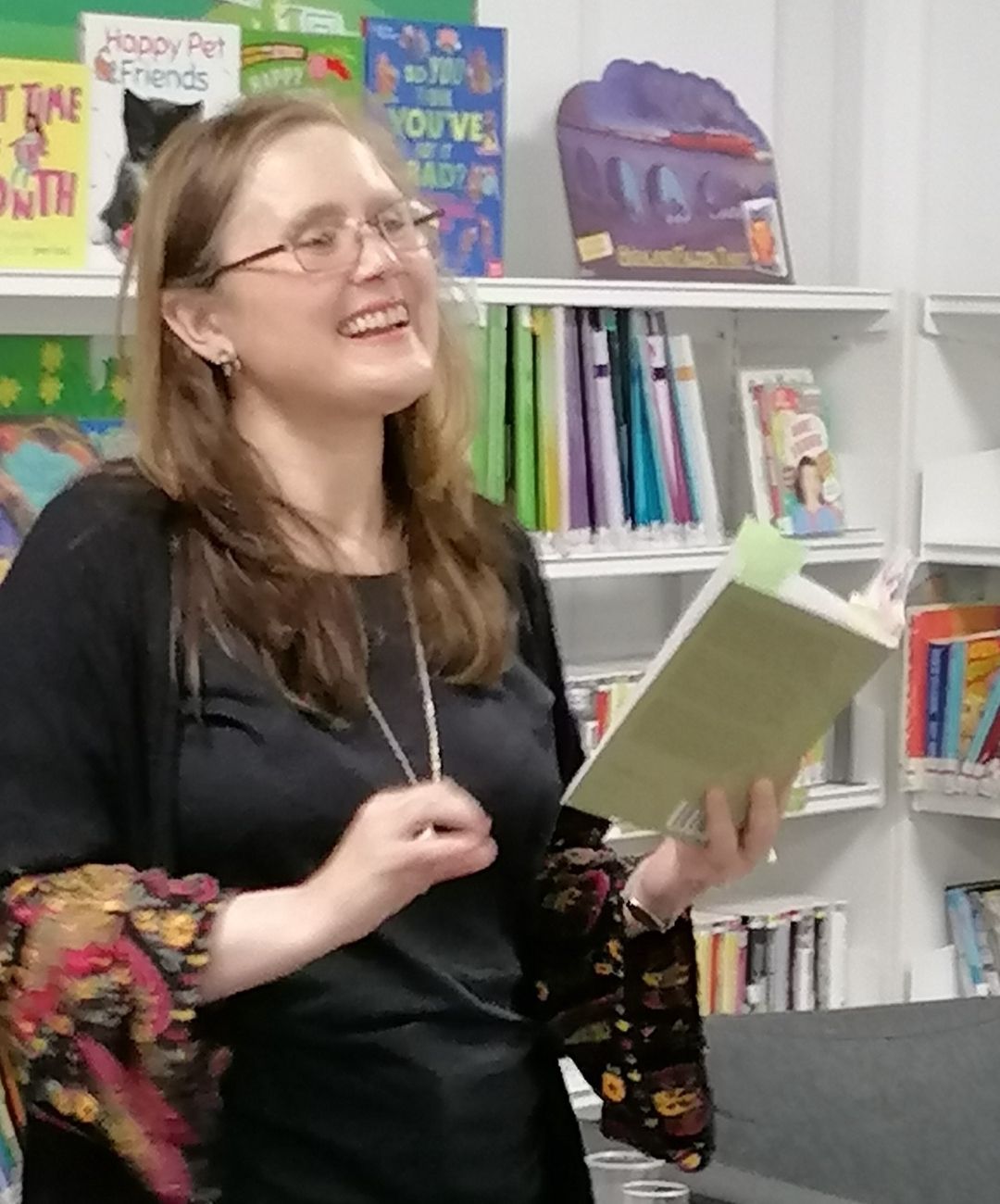 I probably spend more time alone than I used to, but I have a great time pottering about in the garden, writing, and reading. As far as relationships go, not everyone understands. I think because cardiomyopathy is an invisible illness, it's hard for people to comprehend there's something wrong, or that it limits your abilities if they can't see it on the outside. Before the pandemic, I volunteered as a writing group facilitator at the local recovery hub. I hope to get back to that. It's a great way to share experiences through writing and talking and having contact with people who understand that you might not be at your best every day. 
During the process of coming to terms with my diagnosis, I have found writing to be an excellent way of processing how I feel. I wrote my novel before I was diagnosed, and having it published and commended by the Saltire Awards was a really big boost.
My poetry collection was mostly written after my diagnosis as a way of coping with the feelings I was experiencing, which ranged from despair to thoughts about my father, and to the joy at having another chance at life. I didn't intend for the poems to become a collection, and not all of them are about my own experiences. I'd say it's about living and dying, and what that means to each of us. 
We have a range of support services available to anyone affected by cardiomyopathy. Find more information on our services here. 
Return to news