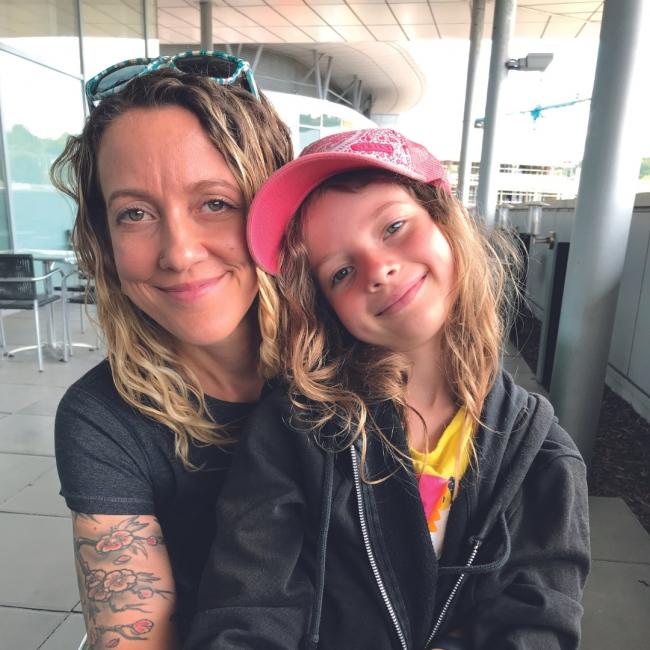 Nine weeks after giving birth, Holly Aldridge, then 33, started to get palpitations that "would stop me in my tracks and I'd need to sit down afterwards."
Holly, from Powys, Wales, had always been fit and healthy, with no history of heart problems in her family. The hospital administrator had a normal, uncomplicated pregnancy and a straightforward birth. However, she felt constantly exhausted after her daughter Megan was born on October 29, 2012. "I was overjoyed with relief and happiness, but also felt utterly exhausted," she recalls. "I discounted this as the 'normal' feeling of a new parent and assumed my palpitations were owing to the stress of parenthood, but I began to struggle with my breathing and had to prop myself up with pillows at night."
Before long, Holly had to muster every ounce of energy to breastfeed her baby and husband Mike even had to hold Megan so Holly could feed her. Things came to a head when one night, the couple realised Holly was so ill they needed to call an ambulance. Holly was taken to Nevill Hospital in Abergavenny and after hours of tests, she was told she had peripartum cardiomyopathy (PPCM)– news that changed her world. "When the doctors said I had heart failure, I couldn't believe it," she admits. "Then, when it sunk in, I felt numb and petrified that I wouldn't live to see my daughter grow up." Holly was transferred to the University Hospital Wales, where a week after her admission, she she reacted badly to her medication and crashed.
Semi-conscious, Holly only remembers being surrounded by doctors working on her and when she quizzed her heart failure nurse in clinic a couple of years later, she confirmed that they had expected Holly to die at that point. She was then transferred to the Queen Elizabeth Hospital in Birmingham, which is the transplant centre for Wales, and initiated on a heart transplant assessment. "Through it all, my will to fight and refusal to accept defeat never left me," she insists.
Over time, Holly began to feel stronger and her body began to accept the drugs. And despite her appalling medical profile, she baffled technicians by passing the final tests of her transplant assessment and was sent home "with a huge bag of pills". A week after her discharge, Holly was determined to get back her independence and learnt how to pace herself. Although her heart function improved, she was fitted with an ICD and gradually, began to get stronger. "I had regular check-ups with the heart failure nurses, who very slowly and carefully titrated up my medicine, aiming for maximum dosage," she explains. "I reached a massive milestone on Megan's first birthday – a day I thought I'd never see."
In 2014, Holly was referred to her local cardiac rehab programme, which she says changed her life. "When I started the rehab programme, I must admit, I did wonder how much benefit I would get from it, as I was the youngest by at least 20 years! "But because of the way the fitness part of the programme was devised with circuit exercises that could be tailored to each individual's own level, I quickly found that I was getting fitter and stronger and more able," she says. By the end of the six-week programme, Holly says she felt like "a new person".
She was no longer too scared to try and do anything more than a quick walk, but also mindful that on tired days, she needed to go easy on herself. "Today, I'm living a virtually normal lifestyle," she says. "I work five days a week and attend the same fitness class that I did before I got pregnant. "I have even walked up Peny-Fan – what an achievement and something I thought would never be possible! "But thanks to my physiotherapist believing in me and all of the NHS staff involved in my care and recovery, I did it."