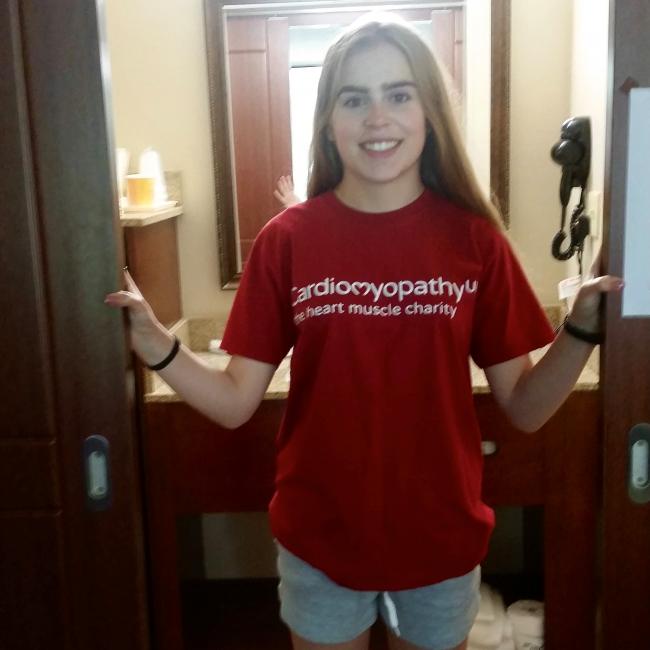 It was one month away from my 18th birthday. I went to the pediatrics day ward for a simple jaw wash out operation. I complained of chest pain after I came round from anesthetic so they did an ECG and realised that it didn't look normal at all. I was referred to GOSH but then to Papworth as I was about to turn 18 and enter adult hospital care. I was diagnosed with Restrictive Cardiomyopathy.
I am very lucky that I can still work and live a relatively normal life. I just have to remember to listen to my body and stop when things are too much for me. Taking diuretics on a daily basis can get a bit frustrating but it's a very small price to pay.
It came as a shock for myself and my whole family. My Grandad has a few heart problems but nothing to do with cardiomyopathy. I was supposed to go to university but I decided it wasn't a good idea. I felt robbed of the future I had planned and it had to change because of my diagnosis. I was and thankfully still am reasonably healthy so was able to get an apprenticeship at a primary school which I absolutely loved. I thought a person with a heart condition would look very poorly, on oxygen maybe and not able to do day to day things like everyone else. My views have completely changed.
When I was diagnosed, I withdrew from life a bit. I didn't share my emotions with anyone and kept it all inside which looking back was so unhelpful. As much as my parents supported me, I would never share which led me to grow angry with myself and feel a lot of resentment. It took me a long time to accept my diagnosis. Cardiomyopathy UK has helped me a lot. Especially the helpline and the nurses. I am a member of the Facebook page too. To find others with restrictive cardiomyopathy helped me greatly. I felt very alone at first because it is so rare and I couldn't find anyone else in the same boat as me.
In October 2015 I was very fortunate to have my name put forward by my cardiologist to a charity to go on an all expenses paid dream holiday to Orlando, Florida for 2 and a half weeks. It was the best experience of my life. We went to Disney and Universal and so much more. I am eternally grateful to everyone who made that holiday possible.
Being diagnosed spurred me on to do things I always wanted to do. In 2018 I took 9 months off work and decided to go travelling around Europe. In May 2018 I got a job in Texas, USA working as a Unit Leader at a Girl Scout camp. That summer was so amazing. I was worried at first because I knew it was a lot of hard work, involved a lot of exercise and the temperatures were very hot but I was fine and made memories I will never forget. I spent a lot of money on travel insurance that year but am so proud of what I achieved.
I know that I have amazing consultants and that the research for restrictive has come so far since I was diagnosed in 2015. I do worry a lot about the uncertainty of my condition. Most people I know got very ill with restrictive and had to have a transplant so the future does scare me but I have learnt to try my hardest to live in the present moment and to deal with situations only when they actually occur instead of worrying about something that may not happen.
I am so determined to live as much of a normal life as possible while ensuring I take good care of myself. I would love to do more travelling in the future and one day start a family. I won't let my condition define who I am.