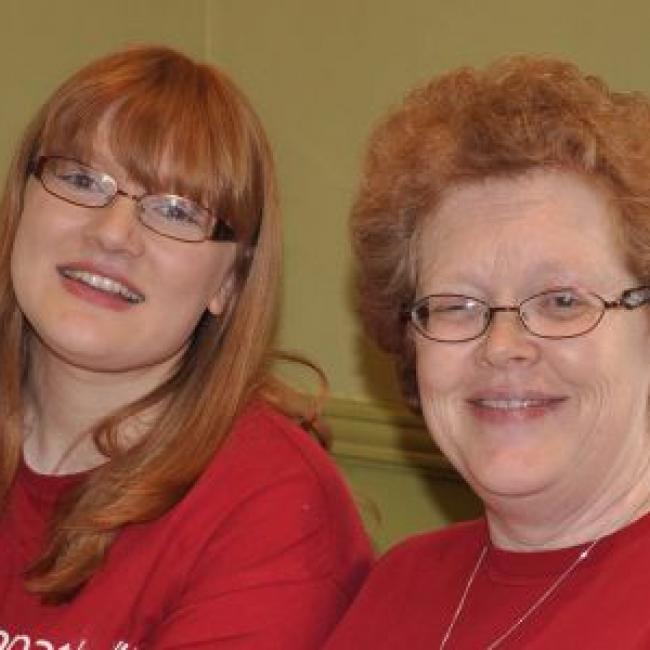 Watch a presentation from my mum, Julie here, or continue reading for my own experience.
I was diagnosed at just 6 weeks old after suffering with fluid on my lungs. I've had this condition my whole life but I never really understood that I was different from anyone else. As far as I was concerned, everyone took tablets every morning before school, I had no idea. I was very active as a child; I did trampolining, dancing and played netball for the Wirral. Looking back I can only remember feeling tired, being so unbelievably tired - but always determined.
My parents didn't realise how serious dilated cardiomyopathy (DCM) was and so I just took my medications, saw my doctors each year but that was it. I was never stopped from doing anything or given any sort of extra treatment by staff at school, or my friends or my family and that made me feel very "normal'. I did find myself comparing my abilities to others in sports and so on but that just made me more determined to do well no matter what. My limitations were never something I really considered, I lived a life without limits and I'm glad I was allowed that chance of normality because it made me stronger and more determined as a person. Looking back, I think if my parents had known how serious the condition was maybe I would've been wrapped up in cotton wool a lot more and who knows where I would be now.
Being a young person with DCM, I'm not exactly the typical picture that might come to someone's
mind when we say 'heart failure'. I get funny looks when I park with my blue badge. People saw me as lazy or a typical teenager as I spent at least 2 hours a day napping in my late teens but that is the price I had to pay to be 'normal' and be able to join in with my friends on nights out or make it through a whole day at college. I was too tired otherwise and I'd become very ill. The majority of my friends at school had no idea I was ill at all until around 4 years after meeting them when I needed my pacemaker fitted.
I still need to nap most days, but I'd rather that and be able to spend more quality time enjoying my life than wasting it feeling rubbish. I enjoy being busy and getting involved with things - I have struggled to come to terms with the things I have no control over in my life (limitations, bad days, dizziness, tiredness, stress) so I have thrown myself into every aspect of my life so wholeheartedly (excuse the pun) because it's up to me how well I do in my exams, how good a friend I am and how I react to the difficult times. I have full control of that. Although, I still struggle at times and have low moments thinking "why me? What did I ever do wrong to deserve this?" All in all I wouldn't change it because I wouldn't be the same person without it. My dodgy ticker is apart of me.
It has impacted my ability to work - I have always worked doing one thing or another. From working in a greenhouse potting plants at the age of 14, to waitressing to earn money through school and college, to eventually working in a school as an exams invigilator. There have been times where I was told to stop working altogether, especially when I was waitressing as it was quite physically and mentally draining. This knocked my confidence a bit, as I wasn't sure how I would build a career if no one would employ me - "who would employ me? I'm too ill". But I have managed to build back my confidence and work as and when I am able to. Setting my own working hours has really helped me to aim high again.
I have finished my undergraduate degree in Psychology at the university of Chester and will be graduating with a 2:1 classification. I have just enrolled on a fully funded PhD placement in Health Psychology at Liverpool John Moores University, where I am researching the psychological impact of cardiomyopathy further. Particularly the diagnostic process and the impact this has on patients, carers and family members. I am also working closely with one of my tutors at the university of Chester with the hope of publishing the findings of my dissertation research. The research I carried out in my dissertation was looking at the prevalence of stress, anxiety and depression within patients with cardiomyopathy (of all types). I managed to get a really good cohort of participants from all regions of the UK (200 participants in total - many of which were gained through Cardiomyopathy UK) and I found there is a significantly high prevalence of clinically severe and extremely severe levels of stress, anxiety and depression throughout all types of cardiomyopathy. Secondary findings found the prevalence levels fluctuated dependant on region of the UK. This was an unexpected and interesting finding, suggesting there may be some effects of available services within regional Healthcare providers.
I became motivated to get involved with Cardiomyopathy UK when I was about 16 and I realised there was no one on their key contacts list who was under the age of 35. At 16, this age difference felt huge, and the way cardiomyopathy affected us and our lifestyles were bound to be completely different to older people who had developed the condition later on in life. I knew I couldn't be the only teenager going through it so I decided to use my experiences to try and help other young people, and be the person that I wished I could have had chatted to.
It means so much to people when you tell them you understand what it's like and they know you mean it. It's such a relief to know you're not alone, even though sometimes you feel as though you have 3 heads. But this is what drove me to set up a support group with my mum as there wasn't one for miles around where I lived, and I had some time to kill so I thought why not? With the rate it has grown and developed even just a year in, I'm really glad we did it now.
When I was about 20 I had moved home and had to take a break from my studies in Lancaster because I was really struggling to come to terms with having the implantable cardioverter defibrillator (ICD) in place. It became very apparent that there was just no psychological support provided through the NHS for patients. The most frustrating thing was that having this device that could save my life one day was actually making me worse. Panic attacks caused atrial fibrillation (AF) which put me at a higher risk of stroke and the stress was unbelievable. I didn't feel like me anymore, I had lost my control and lost my fight and this really threw me. Thankfully, I was well enough to have it switched off later that year and slowly I began to feel myself again (with the help of some more drugs!) SSRIs allowed me to be rational again and not let fear take over.
Fear is the biggest thing I think I have had to deal with, fear of the unknown, fear of not having enough time to do everything I want to do. With the ICD off somehow I felt calmer like I'm not a ticking time bomb anymore. It's not all been doom and gloom though - my condition has given us a good few laughs over the years - the best I think being the time when I woke up in the middle of the night hearing this funny whooshing siren sound and I had my whole room upside down trying to find where it was coming from, only to realise it was coming from me! A setting in my pacemaker hadn't been adjusted so it made this funny noise every few hours and I was convinced I was going mad because no one else could hear it!
I look forward to having a long life and am determined to do everything I want to do before I go anywhere because I'm far too stubborn for my own good! It's important to me that I show my son, but also prove to myself, that no matter what, you just keep going until you find the good in any bad situation, and my family, friends, partner and Cardiomyopathy UK have all helped me to do that and for that I'm very grateful.
Jenny also runs our Cheshire and Merseyside cardiomyopathy support group, which meets regularly throughout the year.