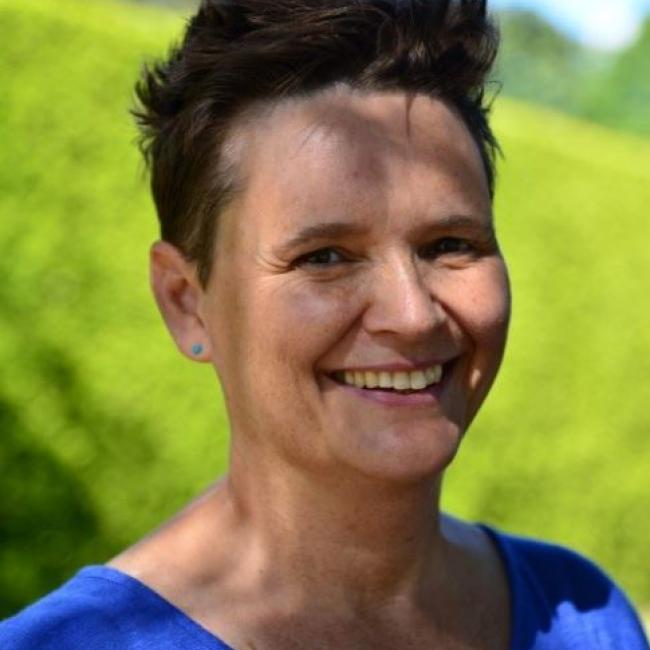 "My story goes back nearly 25 years to 1992 when I was 23 and I had started to notice my heart doing strange things. I was quite fit so my very fast heart rate, popping out of my chest like Popeye, and feeling very sweaty at minor exertion, seemed odd.
I went to my GP, Dr Hubbard, in Bath, and after initially being told that palpitations are common in women, I was fitted with a 24-hour heart monitor. This showed my heart reaching 360 bpm (I never collapsed but did feel uncomfortable and sweaty). I was very quickly admitted to the RUH, Bath where I was closely monitored until my move to St Georges Hospital in Tooting, south London a few days later.
At St Georges I went through a number of tests including an angiogram. This confirmed the devastating diagnosis of ARVC. As did the Echo which showed the tell-tale signs of scarring and fatty mesh over the entire surface of the right ventricle. I was given the beta blocker, Sotalol, and an anti-arrhythmia. Together this combination of drugs slows the heart down and puts it into a more regular rhythm. After a week I went back to my degree course at Bath College of Higher Education. I realised my life would never be the same. I would not be able to run or do any of the other cardiovascular sports I used to enjoy.
I finished my degree in the summer of 1993 and started working for the RAC in Bristol. I was still living in Bath. I had a few instances on my way home that week at the end of October 1993 when I started to feel unwell, sweaty and agitated from a fast heart rate. After about 10 minutes I noticed the worst was over and my heart rhythm had settled down. That was until 29 October 1993. It was a Friday evening and I was returning to my rented house in Brislington, Bristol, on the bus. On that fateful evening, I had decided to go to an exercise class on my way home. At approximately 6pm that evening I suffered a cardiac arrest. Fortunately someone from the public who was having a sauna did CPR, an ambulance crew followed after 15 minutes and brought me back to life with a defibrillator. I cannot remember a great deal of this time.
I have no memory of that day and I do not remember the events immediately after. I wish I could have thanked the fantastically courageous man who saved me by CPR. I did hear that he was traumatised having a daughter of my age. Through a bizarre series of events a few months later I did meet the ambulance crew who resuscitated me and was able to thank them in person. They were carrying a camera crew in the back of the ambulance at the time of my cardiac arrest. First Response was shown on the HTV about 6 months later. There can't be anything more weird than looking down at your dead self.
My parents were living in Akrotiri, Cyprus at the time of my cardiac arrest. They had to suffer an excruciating flight back to the UK not knowing if I had survived and, if so, whether I was brain damaged. I realise now how lucky I was – only 10% of people actually survive a cardiac arrest outside of hospital.
After several weeks at the Bristol Royal Infirmary I was again transferred to St Georges Hospital in Tooting. A few weeks later in November 1993 I was fitted with an Implantable Cardiovertor Defibrillator (ICD). The ICD provides continuous monitoring and treatment for cardiac arrhythmias (abnormal heartbeats). It automatically detects an abnormal heartbeat and will deliver small rapid pacing impulses or an electric shock to the heart to restore a normal heart rhythm.
Due to the large size the ICD was fitted in my abdomen (see below) and not in the usual place of the shoulder. In the early years of my having the ICD, the battery ran out every 3 to 4 years. So far I have recovered very quickly from a battery change and see this as an extremely minor procedure. The issues surrounding my wires and their degeneration is far more worrying.
I remember my tearful mother saying to my cardiologist that she was upset that I lacked my usual sparkle. I had gone from someone who was very fit and active to being stuck on the 'life saving but also sapping' beta blockers for the rest of my life. I finally left hospital in the middle of December 1993 and travelled to Cyprus to recuperate with my parents. I quickly developed a rash in the sun – we now know it to be a side-effect of amiodarone which is a very powerful first line heart drug. To treat the rash I was given an anti-histamine by a GP - we had no idea at this time that I have Long QT Syndrome and should avoid all these type of drugs. Fairly quickly I learnt the horror of the 'shock' of the ICD.
I was taking a shower in a tiled bathroom and the noise that came with the shock was horrific. I realised I'd left St Georges without really asking what the 'shock' from the ICD would feel like. The bathroom was surrounded by mirrors and I saw the horror on my face when the ICD fired. It was pure horror. On another occasion I was in a bakery with two other people and they moved away from me in horror when it went off while queuing for fresh bread. The ICD continued to 'shock' every 7 minutes until I was taken back on a flight to the UK with medical staff. My heart rhythms were eventually brought under control with a new combination of drugs and I had a list of drugs to avoid, including anti-histamines, anti-malarias and anti-depressants.
Initially, I felt too tired, shell-shocked and frightened. My life was on-hold. It's difficult to make plans for the future when you are always aware of your mortality. I wasn't able to drive for 5 years from 1993 until 1998 when the rules changed towards people with ICDs. During this time I moved to London where I didn't have to rely on anyone else to get about. I got a full-time post in the food industry but my promotion prospects were limited without a driving licence.
With the return of my licence in 1998 I moved out of the tough environment of London and back into the countryside. I worked in the MoD in an administrative job close to my house. Finally, with the help of my parents, I managed to buy a one-bed flat and in 2007 I got married to a brave man who understands the condition and didn't want children.
25 years on from my diagnosis there is still no cure for ARVC. It's more commonly seen in men with a ratio of 1:3. We hear more about sportsmen with ARVC than women. The condition is also genetic.
After my time doing boring administrative jobs, being defined by my condition, I took the risk of using my redundancy money to re-train as a careers adviser, something I had wanted to do for some time. I commuted up to London in between placements for a year. Finally, I am loving a new job as a part-time careers adviser at a local college.
Life is different to what I envisaged when I was 20 but I take on new interests all the time and my allotment is a great way to putting life into perspective. I have no problem digging and I love being outdoors, all be it at a slower pace.
I pinch myself every day for the second chance I've been given - I'm the luckiest woman alive."